Listen to this shit before you even begin to read my review.
Today is a sad day for the fans of A7x as today marks the one year anniversery of the rev's death. i had originally planed to make a video for this but im not on my laptop and dont have my recording software and gear on me. so that the reason for the text episode.(please play all the video place to add the effect or if you have the albums and arent already listening (and why arent you) turn them on and listen to avenged while reading this.)Im probably like most of you and became a fan after the city of evil album came out and just like you stayed a fan (and will remain a fan.) For most of us the rev's death hit us pretty hard and still hurts even now and it will always be a pain. But we cant let that stop us from remebering Jimmi foREVer and always. As like almost every fan of a7x i have watched the nightmare video and continue to watch it in honor of the rev but for me that isnt enough. I feel as if wee all need to call in to local rock radio stations and tell them to play any avenged sevenfold song (i know its late but still start doing something even if it isn't giant.) Now folks I want you to pause your a7x for a moment and bow your heads and think of the joy Avenged and the rev have brought to you and the hearts of everyone blessed with listening to a7x.(Once you feel the appropriate amount of time has been reached turn a7x back on and continue you reading)I now a few peoplw who were inspired by the Rev to take their druming to the next level and have done so (ira that goes out to you buddy) and even bands that have blown me away with their awesome skills and awe inspiring dedication to prefecting themselves (infrasonic asylum thats for you) and making themselves show everyone that a7x and the rev arent just a band but something more and for bands that are like this I thank you. Your the reason i do this because good music should be showen and bad music should be shuned to the corner. My final words for all of us in the family is that never forget jimmy and let him live on foREVer and ever.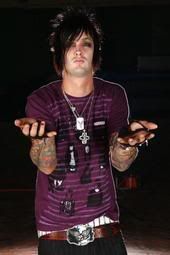 FoREVer and always in our hearts. Rock in peace!